ABOUT US
A private company specialized in pyrolysis for more than 30 years
Pyrovac was founded by Dr. Christian Roy, a chemical engineer who has devoted his career to the industrial development of pyrolysis since his doctoral studies.
Over the years, he has built a solid team of researchers, engineers, and technicians at the forefront of the pyrolysis process in the bioenergy and environmental sectors.
In the early 2000s, Pyrovac developed a three ton per hour industrial pilot project in Saguenay, Quebec, Canada. The process transformed softwood bark into bio-oils and biochar with first generation reactor. The project was abandoned following a major corporate reorganization by a key shareholder of Pyrovac, located in the Netherlands. The withdrawal of UNA ASA led to the closure of the company.
Fortunately, at the end of 2010, Pyrovac came back in force to develop a new generation of reactors. Today, Pyrovac receives orders to design and build industrial solutions in the industrial, agricultural, forestry and municipal waste sectors.
The company grants operating licenses to carefully selected commercial partners.
OUR SUCCESS
Turning organic waste into resources through pyrolysis
As leading experts in pyrolysis, our mission is to transform industrial residues such as biomass and non-recyclable plastics into commercially viable products and fuels, while minimizing GHG (GreenHouse Gas) emissions. The Pyrovac process contributes to a circular economy by recycling residual materials into sustainable products.
Working with partners, Pyrovac develops industrial applications that identify a profitable outlet for residues while creating natural products and alternative fuels to fossil fuels.
OUR VISION: PREPARING A GREENER INDUSTRIAL WORLD
OUR TEAM
Pyrovac's team currently employs some 30 people and is entering an expansion phase. The main departments include administration, a significant R&D group, engineering, industrial design, process control and industrial manufacturing.
It is headed by Dr. Christian Roy, a pioneer in the field of pyrolysis, and is managed by Normand Bernier, an experienced engineer with a long industrial track record. The management team is assisted by Alain Fecteau, with over 35 years of experience in international marketing, and Suzanne Lily Roy, a communications and marketing consultant for more than three decades.
Pyrovac has set up a distribution, marketing and customer service network with its industrial partners.
EXPERTISE
Our fields of specialization are broad and diversified.
Whatever your expertise, you can find your place on the PYROVAC TEAM.
Recherche et
développement
Le département de recherche de Pyrovac développe le procédé de pyrolyse avec en plus une emphase sur des applications commerciales souvent inédites pour les produits liquides et solides obtenus à partir de la la matière résiduelle ciblée.
Les employés dans cette catégorie de fonctions sont :
Scientifiques
Ingénieurs
Techniciens spécialisés
Ingénierie
et conception
Le département d'ingénierie et
conception supporte l'élaboration de
nouveaux pilotes pour le département de R&D, procède à la mise en œuvre des procédés développés
et conçoit des solutions adaptées aux demandes des
clients-partenaires. Le département procède à l'estimation
des coûts et développe les plans de conception, de fabrication
et de construction et participe à la supervision la construction
des équipements.
Les employés dans cette catégorie de fonctions sont :
Gestionnaires de projet
Ingénieurs (génie mécanique, chimique)
Concepteurs mécaniques industriels
Dessinateurs
Techniciens
Ingénierie
de procédés
Le département de génie des procédés travaille au développement de nouveaux procédés de pyrolyse et à l'optimisation des procédés existants. Les projets incluent la mise à l'échelle des réacteurs de pyrolyse, les procédés de fractionnement et de purification et la conversion valorisante des rebuts industriels et agricoles.
Les employés dans cette catégorie de fonctions sont :
Ingénieurs de procédé
Ingénieurs mécaniques
Techniciens
Instrumentation
et contrôle
Le département d'instrumentation et
contrôle développe des applications
logicielles permettant l'acquisition de données
et le contrôle de procédés grâce à des systèmes
informatiques et des automates programmables.
Les employés dans cette catégorie de fonctions sont :
Ingénieurs en automatisme
Ingénieurs électriques
Programmeurs
Techniciens en instrumentation contrôle
Électromécaniciens
Fabrication
Pyrovac est aussi un équipementier qui fabrique des prototypes et des équipements de pyrolyse industriels.
Les employés dans cette catégorie de fonctions sont :
Machinistes
Spécialistes en soudure-montage
Spécialistes de la tuyauterie
Ferblantiers
Mise en service
Ce département apporte le soutien nécessaire à la mise en service des unités industrielles vendues. Son équipe accompagne le client de l\'installation jusqu\'à l'exploitation de l'installation de pyrolyse.
Les employés dans cette catégorie de fonctions sont :
Coordonnateur de mise en service
Opérateurs
Techniciens en instrumentation contrôle
Logistique et
administration
Ce département assure le soutien administratif de l'organisation. Il est responsable de l'approvisionnement, des ressources humaines, de la comptabilité et du soutien administratif.
Les employés dans cette catégorie de fonctions sont :
Acheteur
Personnel d'administration et de comptabilité
Personnel des ressources humaines
Coordonnateur en santé et sécurité au travail
Environnement
Ce département veille au respect des règlementations environnementales et des processus du système de management selon la norme ISO-14001. Il travaille de concert avec les équipes de conception et d'ingénierie afin que les unités industrielles répondent aux normes et règlements.
Les employés dans cette catégorie de fonctions sont :
Ingénieur en environnement
Techniciens en environnement
Commercialisation et
service après-vente
Ce département fait une promotion de la solution technologique auprès de clients ciblés. De plus, il s'assure de la satisfaction des partenaires d'opération et assure la coordination entre le client et l'équipe de projet à l'interne.
Les employés dans cette catégorie de fonctions sont :
Coordonnateur service après-vente
Ingénieur / technicien de support en mécanique et instrumentation contrôle
Spécialistes en marketing
Conseillers en communications et rédaction
Gestionnaire de site Internet et de réseaux sociaux

CORIGIN SOLUTIONS LLC
Corigin Solutions offers biostimulant for plants and biochar for more productive and sustainable agriculture.
Products obtained with the Pyrovac process: CoripholTM and CoricharTM. Penny-Newman distributes CoripholTM
Industrial projects for the conversion of almond shells

2021- 500 kg/hr facility in operation in Merced, California
2024 - A second large-scale facility is planned

Elkem Metal Canada inc
Elkem, a public company, is one of the world's leading suppliers of advanced silicon-based materials. Headquartered in Norway, the company offers a range of products from ferrosilicon to silicon.
Products: bio-carbon briquettes to replace fossil-based mineral coal
Industrial projects:

2021-22 - 1,500 kg/hr industrial demonstration plant for forest residue conversion under construction in Saguenay
2024-25 - 15,000 kg/hr full-scale industrial plant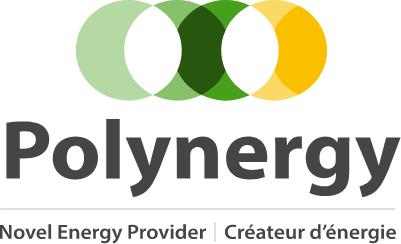 Polynergy
Polynergy is a private company affiliated with SG Énergie, a major distributor of petroleum products in the province of Quebec. The company focuses on the conversion of plastic wastes into transportation fuels.
Products: pyrolytic diesel blended with petroleum diesel for public transportation vehicles
Industrial projects:

2021-22 - A 500 kg/hr scale technology showcase is under construction in the Saint-Lambert-de Lauzon industrial park at the Pyrovac facility.
2024 - A full-scale plant is planned in Quebec for the recycling of blended waste plastics or soft plastics.

Polynergy is undertaking this project thanks to the financial support of Sustainable Development Technology Canada (SDTC) and Transition énergétique Québec (TEQ) through its Technoclimat program.